Publications
Point of Contact Group founder Rich Gallagher is an internationally known author on communications and customer skills, whose books have been published worldwide in eight languages. Click on the links below to order these books online.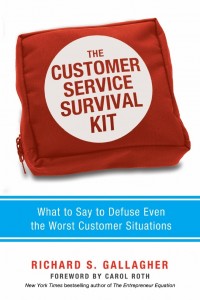 The Customer Service Survival Kit: What to Say to Defuse Even the Worst Customer Service Situation by Richard S. Gallagher
AMACOM Books, ISBN 0-8144-3183-6, $17.95
National #1 customer service bestseller! This book that will fundamentally change the way we look at difficult customer situations, by teaching you the same skills used by hostage negotiators, crisis counselors and others to handle their worst situations. Features extensive case studies and solved exercises. Foreword by New York Times bestselling author Carol Roth.
How to Tell Anyone Anything: Breakthrough Techniques for Handling Difficult Conversations at Work by Richard S. Gallagher
AMACOM Books, ISBN 0-8144-1015-4, $14.95
National top 10 career skills book! How do you tell your boss to stop yelling at everyone? Or a co-worker that he needs to shower more often? Or an employee that her performance is putting her career at risk? Using principles from strength-based psychology, this book will help you make these encounters painless and effective – and more often than not, create real changes in performance and behavior!
What to Say to a Porcupine: 20 Humorous Tales that Get to the Heart of Great Customer Service by Richard S. Gallagher
AMACOM Books, ISBN 0-8144-1055-3, $19.95
National  #1 customer service bestseller! This new book uses 20 humorous tales, faithful to the tradition of Aesop's fables, to teach the skills of world-class customer service. Developed as a training tool for your entire team, this groundbreaking book follows the genre of books like FISH! and Who Moved My Cheese to make customer skills training more fun than ever! A finalist for 800-CEO-READ's 2008 Business Book of the Year.
Great Customer Connections: Simple Psychological Techniques That Guarantee Exceptional Service by Richard S. Gallagher
AMACOM Books, ISBN 0-8144-7308-3, $21.95
This globally-popular book gets to the heart of the Great Customer Connections training methodology. It explores the psychology of customer situations, with simple step-by-step techniques that will dramatically change the way you interact with customers. Read this book, and become supremely confident in any interpersonal situation with customers!
"Rich Gallagher has nailed the essence of serving others with practical ideas that work" -John Miller, bestselling author of QBQ! and Flipping the Switch
The Soul of an Organization: Understanding the Values That Drive Successful Corporate Cultures by Richard S. Gallagher
Dearborn Trade Press, ISBN 0-7931-5780-3, $19.95
This national bestseller examines how your values, and not your business practices, drive your success. Using a self-assessment test and examples from over 100 leading organizations, The Soul of an Organization provides a clear game for how to success by developing your own core values and corporate culture.
"Soul of an Organization will give you the what, why, and how of one of the most important business strategies for staying competitive in today's tough market, corporate culture." -Harry Paul, Co-author, FISH! and FISH! Tales
Delivering Legendary Customer Service: 7 Steps to Success  by Richard S. Gallagher
Oasis Press, ISBN 1-55571-520-6, $15.95
The second edition of Rich's 1998 book Smile Training Isn't Enough, a book club selection and Amazon.com top 10 editor's pick. Your guide to creating the same great front-line service experience as the world's customer service leaders, every single day, one customer at a time. A step-by step program that really works!
Delivering Legendary Customer Service on the Telephone – A Self-Study Program by Richard S. Gallagher
Skills Development International, $19.95
This is not your typical "how to be nice on the phone" book! This complete book and self-study program by Rich Gallagher, himself a former call center manager and veteran of 25,000 telephone transactions, teaches you proven techniques to improve your confidence, productivity and customer service quality on the telephone